What are roof shingles? American "Roof Tiles"
American roof shingles known as asphalt shingles are the most popular form of roofing material in North America with 9 out of 10 American homes or over 81,000,000 American roofs clad in this roof product. I will try to explain what these are and how to install America's roof tiles.
The most popular type of roofing materials in North America today are referred to as Architectural shingles.  They are made of multiple layers that are joined together, so they add depth and dimension to your roof.  They were originally made to resemble a wooden shake roof with a more textured and uneven appearance.  These architectural shingles will provide long lasting protection and performance to your roof, making your house stand apart from other houses that have other types of roofing products.  Architectural shingles protect more homes Worldwide than any other roof type.  American roof suppliers have several grades with each grade offering more performance, 30, 40 and LT Lifetime Warranty's.
Some types will offer high definition colour blends for exceptional depth and dimension giving your home more curb appeal than other roofs.  Your street appeal affects your homes re-sale value.
Real estate experts suggest that up to 40% of the street appeal of your home comes from your roof.
Shingles come in fibre-glass based and organic versions the fibre-glass being the most popular and the strongest.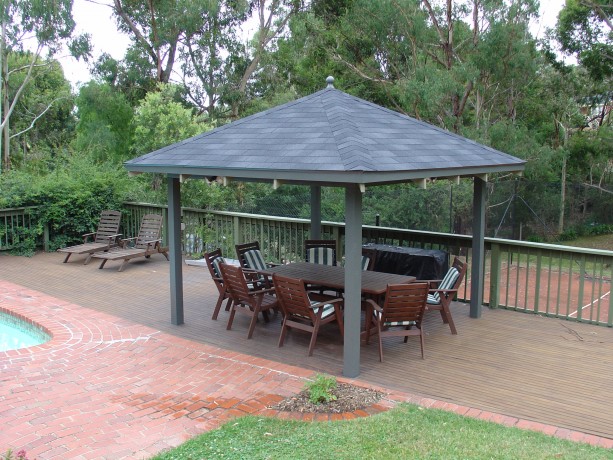 The other very popular style is a three tab shingle.  Three tab's have a more symmetrical regular shape and are made to resemble a slate roof.  Currently these are becoming extremely popular in Melbourne, Sydney, Brisbane, Tasmania and Perth.
Three tab shingles come with different warranty's  – 20, 30 and 40 year "often referred to as lifetime"  The main difference between these types is the amount of asphalt used in production.  Generally speaking if more asphalt is used it will take longer to be broken down by the elements "mainly UV" giving their extended life.
Slate is the most desirable of all roofing materials so it makes sense to use something similar at a fraction of the cost.
How to use roof shingles
Installing shingles on a roof is not generally a difficult task with many people around Australia building anything from small sheds and gazebo roofs to home roofs.  A little roofing how to knowledge is a great thing and a very detailed DIY roofing guide can be found at Roof Shingles Cladding Supplies New Roofing Restoration Site.  In a nutshell you begin by cladding the roof in A-Bond structural plywood, then you roll out the underlay material to cover the plywood, finally installing the asphalt shingles.
Making the right choice for your roof
The asphalt shingles you choose will come down to the style, colour, price and warranty.  Some shingles come with higher wind ratings and this needs to be taken into account.  All fibre-glass based asphalt shingles come with a Class A "ASTM E108" fire rating which is the highest rating in North America.
If you found this information useful or would like brochures, samples visit Shingle Roofing Company – roofing products asphalt tiles replacement cladding experts for more detailed information.




What are Roof Shingles How to Install American Roof Tiles
Look up-What is that roof? American asphalt shingles-Discover the roofing product that is taking Australia by storm. Slate look low cost-new roofs-replacement roofs.